Family Owned
Who We Are...
Ron's Rims, Inc. is operated by Ron Bennett and Dawn Legenzoff with headquarters located in beautiful northwest Pennsylvania. Our operation has provided industry expertise for 25+ years while minimizing our overhead, allowing us to offer outstanding wheels at excellent competitive prices and conveniently provide personal, caring service to our customers regarding all types of wheels and rims.
Ron has been involved in the automotive industry for over fifty years, giving you the benefit of more experience and knowledge than most retailers. Some have called him the "Go-To-Guru" in the industry. We have warehouses conveniently available nation wide, so your order is usually only a few days away.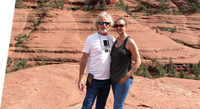 1.

Real People / Real Service

We aim to please, ALWAYS! Technical and fitment assistance is just an email, text or call away. We are more than happy to walk through your purchase, making sure it is correct and you are 100% satisfied.

2.

Competitive Pricing

Ron's Rims has access to the most popular wheel brands and holds long-standing supplier relationships, which enables us to pass discounts and special pricing on to you.

3.

Product Range

Our varied line includes a strong dually product selection, mid/heavy duty truck and trailer wheels for commercial applications, blanks that can be drilled for hard to find bolt patterns and vIntage/hot rod offerings in both off-the-shelf and special order styles.

4.

NO SALES TAX outside Pennsylvania

Unlike big-name retailers, Ron's Rims is NOT required to collect state SALES TAX nation wide. This provides even more savings when purchasing through us. *We are required to collect sales tax in PA unless you can provide a valid tax exemption certificate.